At the end of the 2016-17 NBA season, the Minnesota Timberwolves announced they'd be updating their team logo, colors, and jersey. During halftime of the final home game of 2016-17, Minnesota unveiled the new logo. The new jerseys would be unveiled at a later date. That day has now came.
New take x Bold vibe: https://t.co/bbAc9WmfYd#NewEraNewThreads pic.twitter.com/mmqgVSTutW

— Timberwolves (@Timberwolves) August 10, 2017
The new primary colors are midnight blue, aurora green, lake blue, moonlight grey and frost white. Minnesota displayed two of four jerseys they will sport in 2017-18 and beyond, the Icon and Association editions (there is no longer Home and Away).
The Icon Edition (featuring Karl-Anthony Towns) features their midnight blue color primarily and says 'Minnesota' across the front. The Timberwolves describe this jersey as "symbolic to our rich heritage and separates us from our opponents."
The Association edition features the frost white color primarily and has 'Wolves' across the front. They describe this jersey as paying "homage to the world's most exclusive basketball club and stands as a representation of originality."
The Association: Classic look x New Take. #NewEraNewThreadshttps://t.co/XJwJAOSWXQ pic.twitter.com/wiTduc2HNQ

— Timberwolves (@Timberwolves) August 10, 2017
History
The Timberwolves started in the NBA in 1989-90. Over the twenty-eight years of their existence, Minnesota has debuted new jerseys a few different times. First up were the inaugural jerseys from 1989. These jerseys stayed around until the 1995-96 season for home-town hero Kevin Garnett's rookie year.
For the 1996-97 season, Minnesota debuted a new and improved look, complete with a reshaped logo, new colors, and jerseys. The Timberwolves signaled this as a change in direction at the time under the young and exciting players that included Garnett, Joe Smith, and Stephon Marbury.
During the 2008-09 season, Minnesota refreshed the current logo and jerseys and the team sported a slightly modified jersey until the 2009-2010 NBA season.
For the 2010-11 NBA season, the Wolves made some alterations to give the team a fresh feel. The franchise was in a downturn after Garnett was traded earlier that offseason and was looking for ways to reignite the fanbase.
Over the next few seasons and until the 2016-17 season the Wolves added alternates. They had a special "Muskies" jersey as well as the sleeved jersey. Then during 16-17 the Wolves played their first Christmas Day game against Oklahoma City Thunder. They wore a special edition jersey for that game only.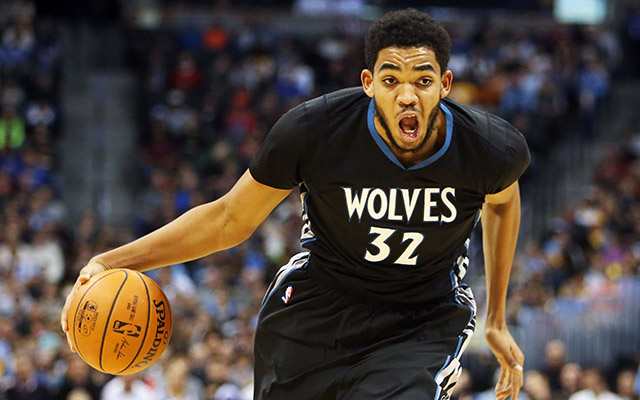 What do you think of the new Minnesota jerseys, be sure to let us know by interacting with us on twitter: @HoopsNations_